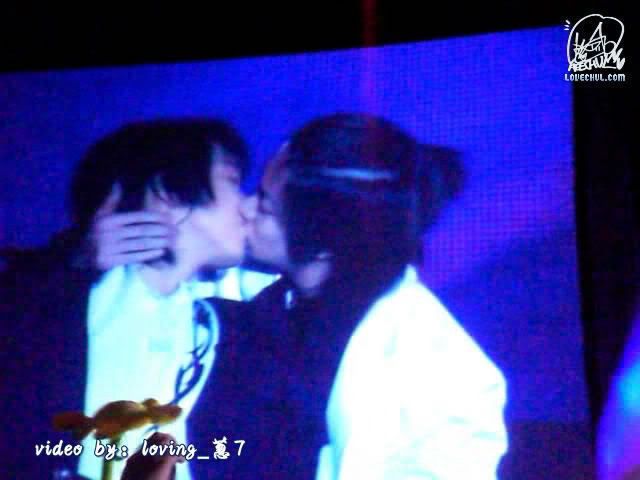 Pairings : KyuMin, HanChul, Love Triangle (YeBum and YeWook, EunHyuk, KangTeuk & lasly Heechul and Super Junior members (with Jungmo)

Genre : Romance and Comedy

Rate : PG (Probably)


Disclaimer : I don't own the boys.





Everyone are back to work. The SJM stays to China again while others are still in Korea. On Dorm 1, Eunhyuk is looking to his phone. Waiting for a phone call but unfortunately no one calls him. It makes him so down.



Sungmin finally arrives to their dorm after his work being a DJ. As he passed through the living room, he saw Eunhyuk quietly sitting on the couch. He comes near to him to find out what his friend's problem.



"Hyukjae? Why you're not prepared yet for your work?" He worriedly said.


"I think I don't feel well, Hyung." Eunhyuk said who is looking fail.


"What? Then you're going to ask Jongwoon-hyung to subtitute to you again." Then he sits down beside his friend. He takes off his mail bag and put it on a couch.


"Might be..."


"Let me see..." He put his hands to Eunhyuk's forehead to feel his temperature. Then he push him away from him.


"Ouch! Why?" He said while touching his left arms by his right hand.


"Your not SICK! Go to WORK!"


"I said I CAN'T!" He yell. "Hope you understand, Hyung." he calmly said.


"Hyukjae, what is your problem? Tell me!" he worriedly said looking closely to Eunhyuk's down face.


"Me and Donghae have a little misunderstanding. That's why he just ignore me until he goes back to China."


"Ah ok! That's too complicated! I'm going to my room now!" he smiled but looks like having a big sweat on his head.


"What? After you force me to tell you why I'm down? You'll leave me?" Eunhyuk looks pissed off.


"I'm just kidding! Why don't you call him? So that you'll reconcile to him again. Or, follow him to China."


"What? But how?"


"Sungmin's right! Actually we are going to China this week." Yesung suddenly appear from nowhere.


"Hyung?" They both shockly said.


"Oh why?" Yesung wonders.


"How long are you listening to us?" Eunhyuk shakly said.


"Oh that? Umm... just a while ago."


"Oh really Hyung! Like you've said we're going to China?" Sungmin asked.


"Yeah! Jungsu-Hyung tell it to me yesterday. Because of the encore there."


"Yay! Thanks to the heaven!" Eunhyuk stands and looks delighted.


"Eh?" YeMin wonders.




Finally they're going to China, comes. First all of them visits the dorm of their fellow members. Everyone was their and surprice for the visit. Eunhyuk quickly finds his boyfriend their. He saw him taking a nap on his room. He quitely sits beside him. He giggled because he can't take being seperated with Donghae who have anger to him. Because of that Donghae was awaken and open his eyes. He was shock as he sees Eunhyuk.



"Eunhyuk?!!" his shockness then he look to other direction. "W-what are you doing here?"


"I'm here because of the Encore." He said excitedly.


"Oh... Is that so?" He said so downly. And something happened that he did'nt expected. "H-Hyukjae?"



Eunhyuk hug him so tightly and tears started to fall from his eyes.


"I missed you, Donghae. I'm sorry if I do anything that makes you angry." He cries.


"Hyukjae, you don't need to cry. You're such a cry baby!" Donghae wiped his tears. "Apology accepted."


"Oh Donghae!"


"You're such a cute guy!" he pinched Eunhyuk's cheeks then all of the sudden something flash to them. They look at it and it was Ryeowook who have a new phone. "Ryeowook!"


"'Giggle'" Ryeowook's giggled.


"Hey, nice phone! Did you buy it?"


"No it was, Jongwoon-hyung who delivered this to me!" Ryeowook comes near them and Eunhyuk grab it to him.


"Cool! This one is a new model. How gallant Jongwoon-Hyung!" Eunhyuk said while turning Ryeowook's phone around.


"I envy Ryeowook, having Hyung. Not like this guy who can't give me anything PRECIOUS!" Donghae yell.


"HUH?" Eunhyuk wonders.


"Then if your not that kind of guy. Where's my TIFFANY necklace that I asked you to buy me on my birthday?" Donghae asked.


"That?" Eunhyuk looks like he can't answer that.





The day of China Encore comes...



Everybody are doing their job normally. At the backstage, Ryeowook are cheerfully taking some picture from his new phone to everyone at the dressing room. Kibum look annoys to him.



"Kibum, what's wrong?" Yesung asked whose sitting beside him.


"Because you granted that BRAT's wish! Look at him, he was so cheerful today and it's ANNOYING!" Kibum said.


"It's just a phone. He don't have my HEART. It belongs to YOU." Yesung hold his hand and Kibum blushed because of what his Hyung said.


"C'mon hyung it's our turn to sing! KRY!" Ryeowook interrupts them and take Yesung's hand. They leave Kibum on his sit and goes out to the dressing room.


"Why I don't belong on KRY? Look Kibum RYeowook Yesung. It makes me CRY!" Kibum complained.





Super Junior members do all their special number and now it's Heechul's Crazy Perf.



Sungmin is ready and no worries inside. Because he thought that he was not the one that Heechul's going to kiss. He played the guitar so well while Kyuhyun is watching him at the backstage.



The part where Heechul is going to kiss somebody comes, and Sungmin don't worries about it because he knew it's Jungmo. Heechul comes near him as he always do. Until something unexpectedly happened (OHMONA!). Heechul grabbed his head and he realized that their lips are OHMONA! Kyuhyun falls from the backstage as he see that his love was kissed by a devil. The performance are now finish. He didn't notice that the rest of his members are beside him. They are all shocked.



"Why Heechul?" Leeteuk's shockly said while his hand is holding his mouth.


"Kyuhyun, are you ok?" Ryeowook asked him.


"Do you think he's ok? What are you?" Kibum yells at him.


"My Sungmin..." Eunhyuk's worry.


"Your sungmin?" Donghae's shock.


"Stop jealousing. Ofcourse he's "My Friend" that's why "My Sungmin"." Eunhyuk explained.


"HYUNG! I'm scared it's me who's going to be NEXTt!" Siwon said who is rushing to Kangin after their performance.


"Where's Heechul and Sungmin? They are not on the stage anymore!" Kangin said while looking on the stage.


"WHAT?" Everyone's shocked.




The two are in the other side of the stage. Sungmin is like walking on a black surface. He really don't know where to go.



"Sungmin, hey!" a devilish voice said who was after him.


"Anata wa!" He turn back to Heechul who looks like petrified.


"Hya! Don't talk to me in NIHONGO!" he is getting nearer to Sungmin and hugs him. "Your lips are the BEST!" he whisphered to Sungmin's ear while smirking.



He pushed away Heechul and like flamed up. It's like San Gouku was born to him.



"You! DISGUSTING GIRL-LOOKING PERVERT!" He yell and his feet are flying, aiming to Heechul's face. Succesfully, he hits him. Before it gets more violent, Jungmo follows them and stop the burning Minnie.



"Why do you need to that? Why?" Sungmin angrily said while he was stopped by Jungmo in moving.


"WHY? Because if I do the same, then fans would get bored." Heechul evilish smirk again.


"You only think about YOURSELF! You don't even know what me and Jungmo FEELS!"


"To tell you the truth, it was very OK for Jungmo to kiss him because..."


"I love Heechul-hyung! And we are now into something." Jungmo continues what heechul said.


Sungmin look at him who was at his front and got shock. "WHAT?" his shocked.


"Oh, and another!" Heechul take something on his pocket and he let Sungmin look at it. "I know this would gonna happen so I think this will make you QUITE."



"WHAT THE!" Sungmin's shocked again. It was a picture that he and Eunhyuk are sleeping on the same bed.


"Do you think I don't know that you and HIM are having a SECRET RELATIONSHIP when your both LOVERS were on China? Look at THIS, you look SWEET together."


"Don't you ever DARE to tell that to EVERYONE!" He was forcing himself to be free on Jungmo's arms.


"Then be QUITE and don't worry I'll tell to Hankyung what we and Jungmo statues right now." He hide the picture on his pocket and at that very moment everyone was coming where they at. "Oh seems like they're here, c'mon Jungmo let's get going." Jungmo makes him free and the two leaves him.


"Sungmin! Are you ok?" Leeteuk as him together with other members coming near him.


"Ofcourse Hyung. He tell that I'm going to be the one he's going to kiss. And I don't mind about it because I already kiss many guys here."


"You're right! Well I think nothing to worry about." Leeteuk's relief.


"W-where's Kyuhyun?" Sungmin asked and look everyone.


"I think you need to talk to him." Yesung said. "He's in the dressing room."



Sungmin goes to the dressing room and he see Kyuhyun who looks like his mind is flying on the air.


"K-Kyuhyun?" Sungmin said as he summoned to the dressing room.


"Hyung?" He stand up and go near Sungmin. "Why didn't you tell me?" He hold Sungmin's both arms.


"A-about what?" Looking to the eyes of his lover.


"Heechul-hyung said that I should not worry because you knew what he's going to do with you. And he said that even you do that you know you still belong to me! I really understand it! Don't worry!"


"Did really that DEVIL tells that?" Sungmin's thought.


"You'r not gonna CHEAT on me right?"


"Kyuhyun." His worry.




As usual the show must go on, everyone go back to their business. After the encore at China their new plan is SM Town in Thailand.



Next chapter: What the heck was HyukMin about?




Kiss Five

~~~~END~~~




PHOTO CREDITS: To someone I don't know.
If you want to read the rest chapter, it's here: "KISS ONE", "KISS TWO" , "KISS THREE" & "KISS FOUR"
Always leave comment!